Dear Customers, we will be closing the bakery section and focusing on baking workshops from 1 Oct 2023.
Read More...
A Time For Change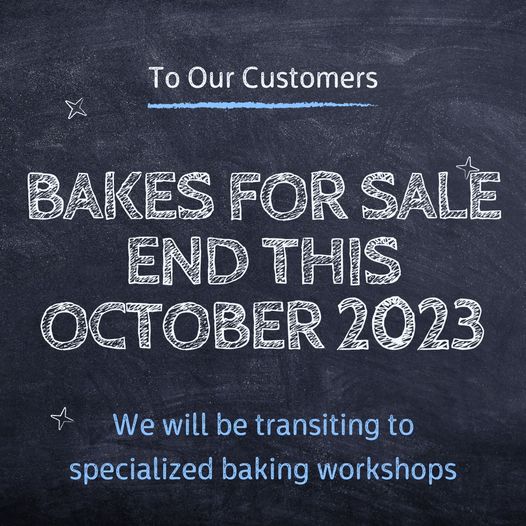 Dear Customers and Friends,
We would like to inform you that Bud Of Joy will be closing the
Bakery
section of the company and ceasing baking from 1 October 2023.
Thank you for being part of this lovely Bud Of Joy community. It's been 11 years and it's time for us to have a break as well as a change to better manage this company.
In line with the purpose of encouraging healthy bakes, we will be concentrating on baking workshops after we close the baking section. Yes, we will be teaching our baking secrets so that you can make healthy bakes at home. We will be covering gluten-free bakes, sourdoughs, wholemeal breads and more.
If you'd like to learn how to bake healthy bakes, please click the button below to leave your details, interests and what you'll like to learn so that we can inform you once we roll out the baking workshops.
---
Also, if you need an NEA-certified kitchen with commercial equipment to use, we are opening our bakery kitchen for rent. DO drop us an email as well so that we can work something out. Please share this news if you know of someone or a small business that is looking for such a space.
---
Quick Answers to your Burning Questions:
Last day for Orders is 25 Sept 2023.
Last day for Collection/Delivery is 30 Sept 2023.
For goods in the Store Section, they will still be sold after 30 Sept. While stocks last.
Health Supplements such as Henry Blooms Olive Leaf Extract (OLE), Henry Blooms Bio-fermented Turmeric, and Barley Green, will still be sold long-term.
Baking ingredients such as sourdough starter, organic flour, oils etc will be sold in conjunction with baking workshops.
Hope the info helps!
Do follow us at
facebook.com/budofjoy
for latest updates.
Wishing you joy & good health always!
Bud Of Joy Bakery Singapore