Free Delivery with Thrifty Thursdays Subscription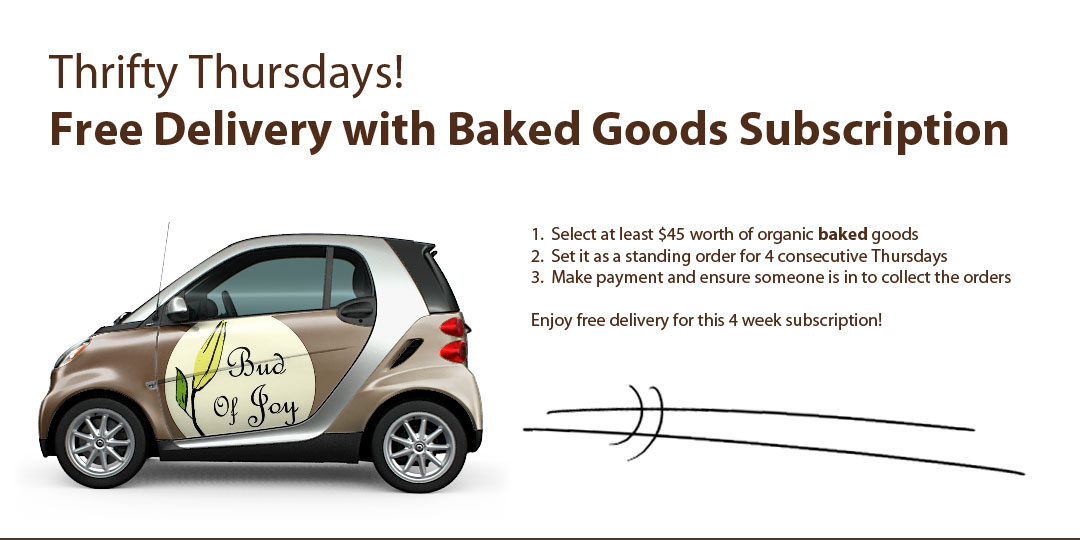 Enjoy Free Delivery for regular orders on Thursdays!
This promotion is valid for baked goods. You can add on store goods but baked goods must be at least $45.

To Make A Change after 4 weeks
After the 4 weeks, if you wish to change your weekly items, please put in a new order and again please remember to type "Thrifty Thursday" in Add a Note.

Renewal
Simply put in a new order of at least $45 of baked goods per week (for 4 weeks) with the note "Thrifty Thursday" and you get your free deliveries for 4 consecutive Thursdays again!

How it works
Order online at https://budofjoy.com/bakery.htm
Select at least $45 worth of baked goods in your shopping cart.
When completing your order for delivery on a Thursday, click "Add a Note", and enter "Thrifty Thursday".
This same order will take place 4 times every Thursday for 4 consecutive Thursdays. Please ensure that someone is in to receive the goods or there will be charges incurred.

We will contact you to make payment for the 4 weeks
Delivery charges for these 4 deliveries will be waived!
Deliveries stop after the 4 weeks.